PROBLEM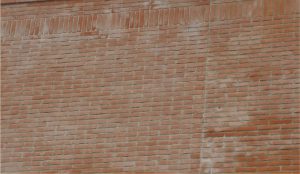 The degradation mechanism due to salt efflorescence is a consequence of the crystallization pressure of some salts, which have the characteristic of considerably increasing their volume during the passage to the solid phase, following the evaporation of water; the pressures caused inside the pores are such as to overcome the resistance capacity of the material and the result is the continuous erosion and disintegration of the surface layers of the materials. Several saline compounds can be found, in the form of aqueous solution, inside the walls. Their deposition on the surfaces depends both on the degree of solubility of each compound, and on the greater or smaller quantity of water necessary to solubilize them.
The salts can come from: the ground (especially the Nitrates and the Chlorides); from the deposition of aerosols present in the atmosphere (Chlorides and Sulfates); from the same material used for construction (alkali metal sulfates may be present in bricks, calcium and magnesium sulphates may be present in limestone, etc.); from localized infiltrations.
The growth of crystals of inorganic salts (nitrates, sulphates, sodium chloride, etc.) within the pores of a stone causes fragmentation and in extreme cases, pulverization.
The resistance of porous materials, to the damage caused by salts, depends on the distribution of the size of the pores inside them; it, all other conditions being equal, decreases as the concentration of pores with small dimensions increases.